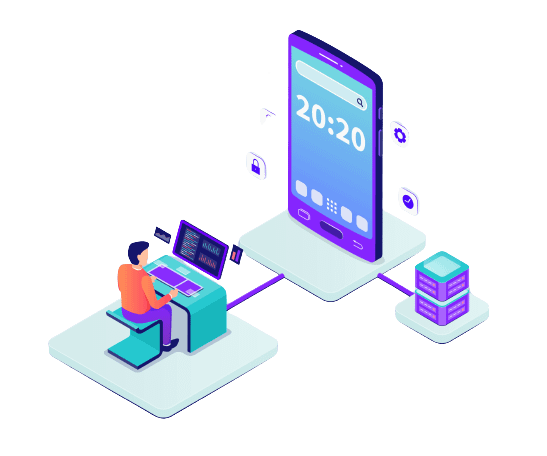 Mobile App Development Company In USA
From ideation to development, we are pioneers in delivering user-efficient and stellar mobile app development services to scale up your business. Our experienced team of developers help you deliver a high-end user experience.
Delivering Excellent Mobile App Development Services
WEBaniX is a world-class Mobile App Development company in the USA offering innovative solutions and creating scalable, and reliable digital products. With our highly skilled team of developers, we deliver an application with abundant features and a customised product that meets the client's needs and requirements entirely. One of our products developed is Logistics Management Software, which is our custom-developed app for managing logistics. We aim at providing services to businesses of all sizes, be it small, medium, or large enterprises, we are experts in developing result-driven Android and iOS mobile applications. Turn your business idea into an efficient app fast with us!
Our Top-Notch Mobile App Development Services
WEBaniX is the leading name in the Mobile App Companies in the USA, which is committed to transforming your business's digital landscape with credibility and creativity.

IOS App Development
We are excellent at developing high-performance iOS apps. Our team develops iOS mobile apps that are built with the latest framework be it native or hybrid to ensure long-term business growth.
Android App Development
With our user-friendly and secure Android applications, your business can be leveraged like never before! Our developers consciously strategize to build customised and cost-effective android applications that make your business stand out.
Hybrid App Development
WEBaniX strives to provide businesses with complete end-to-end digital solutions. And hybrid app development is a sure-shot way to reach customers on various levels. We design hybrid applications that are customised and cost-effective.
Mobile App Development Serving In Various Industry Verticals
Every business or organisation is distinctive and has different requirements. WEBaniX offers customised mobile app solutions that fit every business desire. We serve in various sectors like:-
Why Choose Our Mobile App Development Services?
Enquire Now For Mobile App Development
Our Mobile App Development Company Process
We have a predefined and systematic workflow blend up with excellent results and agile methodology to deliver mobile app projects within a prescribed deadline.
Frequently Asked Questions
Which platform is better to launch a mobile application to grow a business?
Earlier, businesses were inclined to either iOS or Android platforms to launch their mobile applications. But seeing today's market share, customised mobile applications are in trend. So, our mobile app development services go beyond native platforms. However, we suggest you for discussing your budget and deadline beforehand to get tailored solutions that work.
Can you help even if a business doesn't have a fully-fledged application idea?
Yes, we do! You can bring your raw ideas towards your mobile app development or a fully-fledged plan that needs technical execution to us.
How do I get associated with WEBaniX?
You can contact us over a call or e-mail with your project requirements. Our team will analyse and respond with the best plan and strategy as soon as possible.
Why Should we hire WEBanix as our development company?
Well, there are numerous reasons to hire us. Stunning, cost-effective, provide the best quality and professional standards applications in on-time delivery of projects are some of the key features of our development company.